Company Philosophy
Miyake Honten during the Taisho Era
(1912-1926)
Creative spirit stemming from "harmonious union and whole-hearted devotion (frorm the founder's last will and testimony)" passed down through the generations is what makes Sen-no-Fuku (Sempuku, meaning "one-thousand good fortunes").
Since our founding in 1856, our basic policy has been "harmony", with which we have bravely confronted and challenged various difficulties. From now on too, we believe that the "spirit of harmony" is essential for us to share "many good fortunes with our customers".
Three pillars of safety and security that Sempuku promises:
Complete quality control
Solid sales network
Promotion of streamlining
Where Sempuku got its name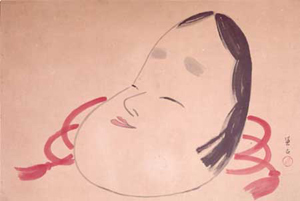 Painting by Fuko Ishiwata
Fuko Ishiwata was an apprentice to Japanese painting master Gyokudo Kawai. His painting "Okame" has been on our label since 1953.
To honor the fruits of the women's support, Sempuku was named after the founder's mother Fuku and his wife Chito.
In honor of his mother and wife's support in his success, Founder Seibe Miyake added his mother's name "Fuku (happiness)" to the character "Chi (thousand)" from his wife's name "Chito", to read "Sempuku".
Company Profile
Name

: MIYAKEHONTEN Co., Ltd.

Founded

: 1856

Established

: July 2, 1925

Capital

: 35 million yen

Number of Employees

: 73 (as of June 1, 2014)

Location of Head Office

: 7-9-10 Hondori, Kure City, Hiroshima 737-0045
Phone: +81-823-22-1029 / Fax: +81-823-23-1076

Tokyo Office

: 3-13 Hakozaki-cho, Nihonbashi, Chuo-ku, Tokyo 103-0015
Phone: +81-3-3664-1029 / Fax: +81-3-3661-1029
Subsidiary Companies

Miyake Sangyo Co., Ltd.
Lines of Business: Liquor Wholesaler /
Tokio Marine & Nichido Fire Insurance Agent
Location: Same as Head Office
Phone: +81-823-25-1029
Fax: +81-823-25-2200
Miyake Kikaku Co., Ltd.
Lines of Business: CP Cosmetics /
Kyocera CRESCENT VERT Distributor
Location: Same as Head Office
Phone: +81-823-23-1029
Fax: +81-823-23-1188